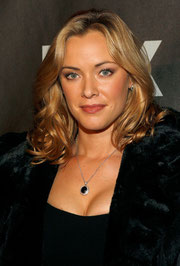 Kristanna Loken
Kristanna Sommer Loken (ou Løken) est une actrice américaine née le 8 octobre 1979 à Ghent dans l'État de New York aux États-Unis.
Kristanna Loken commence une carrière de mannequin dès l'âge de 15 ans.
Elle fut encouragée par sa mère, Rande Porath, elle-même mannequin qui arrêta sa carrière pour élever sa fille à sa naissance.
Merlin, le père de Kristanna Loken est un écrivain de nouvelles et de scénarios cinématographiques.
Ses grands-parents d'origine norvégienne ont immigré dans l'État du Wisconsin.
Après être devenue top-model grâce à un contact avec l'agence Elite, elle joue dans quelques séries télévisées comme Loïs et Clark, Sliders, les mondes parallèles, ainsi que dans plusieurs films, dont Terminator 3 : le soulèvement des machines où elle joue le rôle du T-X venu du futur pour éliminer le futur chef des humains.
En 2004, elle apparaît dans le téléfilm allemand L'Anneau sacré.
En 2006, elle joue le rôle principal du film BloodRayne et, ensuite, fait une apparition dans le film In the Name of the King: A Dungeon Siege Tale (tous deux de Uwe Bohl).
Bisexuelle affirmée (en couple un moment avec Michelle Rodriguez), elle est apparue également en 2007 dans dix épisodes de la série The L Word.
En 2007, elle a interprété le rôle titre dans la série télévisée Painkiller Jane, arrêtée au bout d'une saison.
Kristanna se tourne aujourd'hui de plus en plus vers la production…
Personnellement je l'ai rencontrée lors d'un festival Fantastic'arts à Gérardmer, et je lui ai fait signer une photo de son personnage du T-X de Terminator 3.