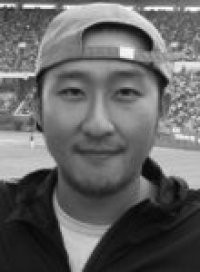 Kim Bong Joo

Après plusieurs années de production (notamment comme assistant chez Miike pour « Over my Dead Body ») et de réalisation de courts métrages, Bong Joo Kim se lance dans sa première réalisation avec « The Phone ».
Un film coréen qui mélange le thriller à la science-fiction et qui a cartonné au box-office coréen en arrivant en tête dès sa première semaine d'exploitation !
Un nouveau réalisateur à suivre de près dans les prochaines années…
Nous l'avons croisé au BIFFF en 2016, où je lui ai fait dédicacer une affiche de son très réussi premier film « The Phone ».
Encore bravo pour son interprétation décomplexée du générique des Télétubbies sur la scène du BIFFF ! ! !