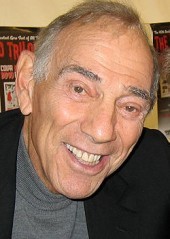 Herschell Gordon Lewis
Herschell Gordon Lewis est un réalisateur, scénariste, producteur, directeur de la photographie, acteur et compositeur américain né le 15 juin 1926 à Pittsburgh, Pennsylvanie (États-Unis).
Il est considéré comme le père du genre GORE, depuis qu'il a réalisé le premier film du genre, Blood Feast.
Ont suivi 2000 Maniacs, Color me Blood Red, Grusome Twosome et, en 1970, le chef-d'œuvre du gore : The Wizard of Gore.
Aujourd'hui, il est surtout connu comme consultant en marketing direct, et pour ses films à la limite du supportable, comme 'Ils ont épluché mon visage' et 'Des asticots dans mes dreads' !
Personnellement je l'ai rencontrée lors d'une rétrospective qui lui était dédiée, au forum des images de Paris, lors d'une édition de l'Etrange Festival, et je lui ai fait signer mon passeport, à défaut d'avoir quoique ce soit de plus adéquat sur moi !