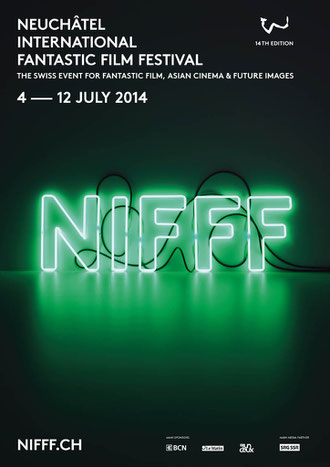 Pour sa 14ème Edition, le NIFFF annonce une Masterclass avec George R.R. Martin et confirme la présence de Kévin SMITH, le réalisateur et scénariste américain incontournable qui viendra présenter en personne les films phares de sa filmographie et une carte blanche. Ce fin observateur de la culture populaire US est, avec notamment Quentin Tarantino ou Robert Rodriguez, l'un des précurseurs du cinéma américain indépendant des années 90. Artiste baigné dans le cinéma de genre, il travaille actuellement sur un film d'horreur nommé «Tusk» après le célèbre Red State (USA, 2011). Il anime également une célèbre web émission sur les comics, milieu qui compose une part intégrante de sa culture car il a scénarisé plusieurs bandes dessinées.
Le NIFFF présente les premiers titres de sa programmation dont le film Stage Fright (Canada, 2014) de Jerome Sable, dans la lignée des grands classiques horrifiques des années 80, The Sacrament (USA, 2013) de Ti West, brillant réalisateur de House of the Devil et V/H/S (NIFFF 2010 et 2012), ainsi que la suite très attendue de Raid, Raid 2 : Berandal (USA, Indonésie, 2014) de Gareth Evans, le film d'action le plus corrosif de l'année; ou encore le premier long métrage de Renaud Gauthier Discopathe (Canada, 2013), une comédie noire sur le disco qui ravira les amateurs de slashers, iNumber Number (Afrique du Sud, 2013), dernier opus de Donovan Marsh, une fable policière d'une rare puissance et pour finir le film Young Detective Dee : The Rise of Sea Dragon (Hong-Kong, Chine, 2013), du maître incontesté des films de kung-fu Tsui Hark !
Le NIFFF offrira cette année encore sa section FILMS OF THE THIRD KIND qui propose les films les plus attendus de la saison et son incontournable section ULTRA MOVIES, qui présente la production la plus extravagante ou extrême du cinéma de genre.
PROGRAMME 2014
COMPETITION INTERNATIONALE :
Blind
Controra
Der Samurai
Extraterrestrial
Honeymoon
Housebound
It Follows
Late Phases
Starry Eyes
The Canal
The Mole Song : Undercover Agent Reiji
These Final HoursWhat
White God
FILMS EN COMPETITION POUR LE MELIES
ALLELUIA, Fabrice Du Welz, Belgium, France, 2014
LA SANTA, Cosimo Alemà, Italy, 2013
UNDER THE SKIN, Jonathan Glazer, UK, 2014
BLIND, Eskil Vogt, Norway, 2014
CONTRORA, Rossella De Venuto, Italy, Ireland, 2013
THE CANAL, Ivan Kavanagh, Ireland, 2014
DEAD SNOW : RED VS. DEAD, Tommy Wirkola, Norway, Iceland, 2014
WHITE GOD, Kornél Mundruczó, Hungary, Germany, 2014
NEW CINEMA FROM ASIA
YOUNG DETECTIVE DEE : RISE OF THE SEA DRAGON 3D
MONSOON SHOOTOUT
LIVE
THE SUSPECT
YASMINE
ULTRA MOVIES
KILLERS
DEAD SNOW : Red vs. Dead
DISCOPATHE
EAT
STAGE FRIGHT
THE QUIET ONES
THE SACRAMENT
WOLFCOP
ZOMBEAVERS
FILMS OF THE THIRD KIND
ALLELUIA
CALVARY
iNUMBER NUMBER
PING PONG SUMMER
P'TIT QUINQUIN
THE HARVEST
TOMMY
UNDER THE SKIN
WHITE BIRD IN A BLIZZARD
FILM D'OUVERTURE
FILM DE CLÔTURE
YOUNG ONES
LES INVITES DU NIFFF 2014
INTERNATIONAL COMPETITION
Till Kleinert (DER SAMURAI, DE) ; Ivan Kavanagh (THE CANAL, IR) ; Rossella De Venuto (CONTRORA, IT)
NEW CINEMA FROM ASIA
Iguchi Noboru (LIVE, JP), Airi Yamamoto (LIVE, JP) ; Siti Kamaluddin (YASMINE, BN), Ching Chan Man (YASMINE, BN)
ULTRA MOVIES
Jimmy Weber (EAT, USA)
FILMS OF THE THIRD KIND
Cosimo Alemà (LA SANTA, IT) ; John McNaughton (THE HARVEST, USA) ; Tarik Saleh (TOMMY, SU)
HISTOIRES DU GENRE
Tsai Yang-Ming (TAIWAN BLACK MOVIES, TW) ; Jean-Pierre Putters (SUPER 8 MADNESS, FR)
THE INTERNATIONAL JURY
Edouard Waintrop, general delegate of the Quinzaine des Réalisateurs in Cannes and Grütli cinemas' director; Luigi Cozzi, director (Starcrash, Contamination, Hercules); Julie Baines, British producer (Triangle, Creep); Júliús Kemp, director (Reykjavik Whale Watching Massacre, NIFFF 2010); Alan Jones, artistic director Film4 Frightfest (UK)
TV SERIES STORYWORLDS - WRITER'S ROOM CONFERENCE
George R.R. Martin, author and screenwriter (Game of Thrones, USA); David Varela, author (The Sherlock Network, UK); Ben Harris, author and producer (BBC / SKY, UK); Guillaume Lubrano author, director and producer (Metal Hurlant Chronicles, We Productions, FR); Sven Wälti head of co-production (SRG SSR); Urs Fitze, head of fiction unit (SRF); Françoise Mayor, head of fiction unit (RTS), Nicolas Dufour, moderator (journalist, Le Temps)
THE IMAGING THE FUTURE SYMPOSIUM AND VFX JURY
Scott Squires, director, visual effects supervisor and software developer; Claudio Faeh, Swiss director (Northmen: a Viking Saga); Hitesh Bharadia, member of the Visual Effects Society (VES) in London