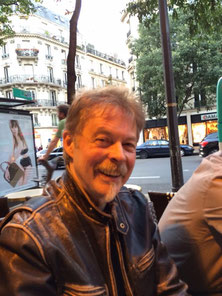 Gregory Manchess
 
Greg Manchess est l'un des maîtres de la peinture à l'huile.
L'une des plus connues, Reaching the Ridge, a été vendue lors de la vente aux enchères « BD & Illustration » chez Christie's en mars 2014.
Détenteur de prix prestigieux tels que le Spectrum Award, le Communication Art Award et le Society of Illustrators New York Award, Greg Manchess est un peintre-illustrateur majeur aux Etats-Unis, caractérisé par l'utilisation de pinceaux larges et un extraordinaire travail des corps.
Peintre autodidacte, il compte parmi ses clients la Major League Baseball World Series Programs, le Time, Newsweek, Playboy, le Smithsonian Institution et le National Geographic.
Chacune de ses peintures débute par la recherche du point d'appui le plus fort, duquel découlera l'ensemble de l'image.
À partir de croquis détaillés, en plus de puiser dans une riche documentation pour travailler ses couleurs, il réalise également des séries de photos pour capturer les effets de lumière.
La plupart des peintures composant cette expositions retracent le parcours de Greg Manchess à travers des commandes faites par des éditeurs et des magazines, dans des domaines aussi variés que la littérature généraliste, l'histoire, la science-fiction ou la fantasy.
D'autres ont été créées à partir de ses histoires préférées aussi bien que de scénarios personnels, qu'ils aient déjà été publiés ou pour certains, à venir…
Alors certes, Greg Manchess n'est pas vraiment un auteur de BD, c'est plutôt un illustrateur, mais son univers s'inscrit aussi dans la fantasy et la SF, aussi je l'ai casé dans cette section de la GZ.
Je l'ai rencontré lors de la première journée Robert E. Howard, et je lui ai fait dédicacer le roman Conan « Les Clous Rouges ».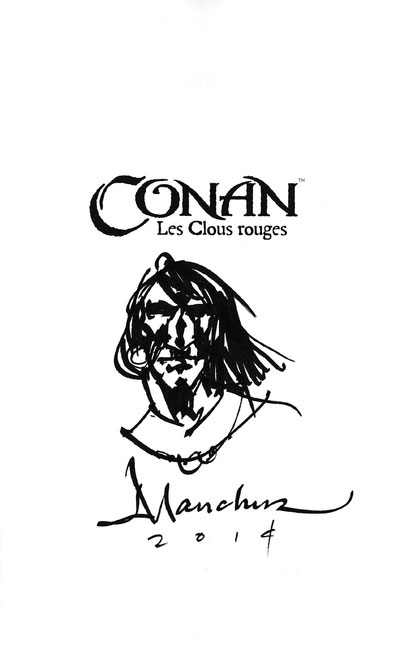 Sa Bibliographie
Cover Art
Cover: Shadow Walkers (1993)
Cover: A Night in Moonbeam County (1994)
Cover: The Alchemist's Door (2002) also appeared as:
Variant Title: Alchemist's Door (2003)
Cover: The Impossible Bird (2002) also appeared as:
Variant Title: The Impossible Bird (2002)
Cover: Lion of Ireland (2002)
Cover: Finn Mac Cool (2002) also appeared as:
Variant Title: Finn Mac Cool (2003)
Cover: Stories of Your Life and Others (2002)
Cover: A Hidden Place (2002)
Cover: White Apples (2002) also appeared as:
Variant Title: Chocolate-Covered God (An Excerpt from White Apples) (2002)
Variant Title: White Apples (cover) (2002)
Cover: The Hard SF Renaissance (2002)
Cover: Dreamer of Dune: The Biography of Frank Herbert (2003)
Cover: White Apples (tp) (2003)
Cover: The Knight (2004) also appeared as:
Variant Title: The Knight (2004)
Cover: Argosy Magazine, May-June 2004 (2004)
Cover: Glory Road (2004)
Cover: The Wizard (2004) also appeared as:
Variant Title: The Wizard (2004)
Cover: The Wizard Knight (2005)
Cover: We Three Dragons: A Trio of Dragon Tales for the Holiday Season (2005) also appeared as:
Variant Title: The Christmas Dragon (2006)
Cover: The Conquering Sword of Conan (2005) also appeared as:
Variant Title: The Conquering Sword of Conan cover (2006)
Cover: The Sky People (2006) also appeared as:
Variant Title: The Sky People (2007)
Cover: Grania: She-King of the Irish Seas (2007) also appeared as:
Variant Title: Grania (2004)
Cover: In the Courts of the Crimson Kings (2008)
Cover: Lamentation (2009)
Cover: The Golden Shrine (2009)
Cover: Canticle (2009)
Cover: The Breath of God (2009)
Cover: Robert E Howard's Complete Conan of Cimmeria 1935: v.3 (2009)
Cover: The Starship Machine (2010)
Cover: Robert E. Howard's Complete Conan of Cimmeria: Volume Three (1935) (2010)
Cover: Pleasure Model (2010)
Cover: The Bloodstained Man (2010)
Cover: A Weeping Czar Beholds the Fallen Moon (2010) also appeared as:
Variant Title: A Weeping Czar Beholds the Fallen Moon (2009)
Cover: Spectrum 17: The Best in Contemporary Fantastic Art (2010)
Cover: Money Shot (2010)
Cover: Scratch Monkey (2011)
Cover: Clockwork Fairies (2011) also appeared as:
Variant Title: Clockwork Fairies (2010)
Cover: Two Stories (2011) with Stephan Martiniere also appeared as:
Variant Title: Two Stories (2013)
Cover: Man Plus (2011)
Cover: If Dragon's Mass Eve Be Cold And Clear (2012) also appeared as:
Variant Title: If Dragon's Mass Eve Be Cold and Clear (2011)
Cover: Dress Your Marines in White (2012) also appeared as:
Variant Title: Dress Your Marines in White (2012)
Cover: The Mongolian Wizard (2012) also appeared as:
Variant Title: The Mongolian Wizard (2012)
Cover: The Fire Gown (2012) also appeared as:
Variant Title: The Fire Gown (2012)
Cover: Day of the Kraken (2012) also appeared as:
Variant Title: Day of the Kraken (2012)
Cover: Lord of Chaos (2012)
Cover: The Kassa Gambit (2013) also appeared as:
Variant Title: Firaxe (2012)
Cover: Enter the Wolf (2013)
Cover: After Rome: A Novel of Celtic Britain (2013)
Cover: Jake and the Other Girl (2013) also appeared as:
Variant Title: Jake and the Other Girl (2013)
Cover: Bard: The Odyssey of the Irish (2013)
Cover: Cayos in the Stream (2013) also appeared as:
Variant Title: Cayos in the Stream (2013)
Cover: Grave Descend (2013)
Cover: Drug of Choice (2013)
Cover: The Venom Business (2013) [only as by Greg Manchess ]
Cover: House of Dreams (2013) also appeared as:
Variant Title: House of Dreams (2013)
Cover: What Mario Scietto Says (2014) also appeared as:
Variant Title: What Mario Scietto Says (2014)
Cover: Star Bridge (2014)
Interior Art
Return from the Stars (1980)
Torrents of Babel (1980)
Red Star, Winter Orbit (1983)
The Nightrunners (1987)
The Gates of Babel (1989)
Einstein's Law (1990) [also as by Greg Manchess ]
Einstein's Law [2] (1990) [only as by Greg Manchess ]
Latter-Day Martian Chronicles (1990) [only as by Greg Manchess ]
Latter-Day Martian Chronicles [2] (1990) [only as by Greg Manchess ]
Latter-Day Martian Chronicles [3] (1990) [only as by Greg Manchess ]
Latter-Day Martian Chronicles [4] (1990) [only as by Greg Manchess ]
Latter-Day Martian Chronicles [5] (1990) [only as by Greg Manchess ]
Rim Shots (1991) [only as by Greg Manchess ]
Rim Shots [2] (1991) [only as by Greg Manchess ]
The Other Shore (1991)
The Other Shore [2] (1991)
Snow Angel (1995)
Fall Fiction (1996)
Conagh (1998)
Malcolm: Pirate King (1998)
Above Crater Alphonsus (2000)
Nanuki: Lord of the Ice (2000)
Daykeeper (2001)
Ice Age man: Cave Bear Attack (2001)
Night Crossing (2001)
First Contact (2002)
Frogoyle (2003)
Spectrum 10 Call for Entries poster ("...something wicked this way comes.") (2003)
Spectrum 10 Call for Entries poster ("...something wicked this way comes.") (2003)
The Conquering Sword of Conan (2005)
Conan of Cimmeria (2005)
An Interview with Grag Manchess: Painting the Conan That's Never Been Seen! (2005) [only as by Greg Manchess ]
Spectrum Super Special #3 (Conan) (2005)
Conquering Sword of Conan (2006)
Conquering Sword of Conan [2] (2006)
Unwrap the Joy! (2006)
Conan: The Phenomenon (2007)
Conquering Sword of Conan (2007)
Black Sam Bellamy, Pirate (2008)
Midnight Pirate Battle (2008)
Above the Timberline (2009)
C3PO (2009)
The Satan Factory (2009)
Robert E. Howard's Complete Conan of Cimmeria: Volume Three (1935) (2009)
Looking for Truth in a Wild Blue Yonder (2010) with Stephan Martiniere
The Starship Mechanic (2010) with Stephan Martiniere
A Different Wizard of Oz (2010)
A Princess of Mars (2010)
Breath of God (2010)
Masters of Science Fiction and Fantasy Art (2011)
Commitment (2011)
Lord of Chaos (2011)
Touchdown (2011)
The Metal Men of Mars (2012)
A Tall Tail (2012)
Amelia (2012)
Jane (2012)
The Legend of Sleepy Hollow (2013) [only as by Greg Manchess ]
Astronaut 5 (2013) [only as by Greg Manchess ]
Bride of Frankenstein (2013) [only as by Greg Manchess ]
Vampire Earth Vol. 1 (2013) [only as by Greg Manchess ]
Deep Diver (2014)
Faery Portrait (2014)
Gladiator (2014)
Knight High Collar (2014)
Perimeter Check (2014)
Vampire Earth vol. 2, Way of the Bear (2014)